Nigel Gaisie was on Onua TV today on Onua Maakye to send a warning to Kennedy Agyapong for telling numerous lies about him, and trying to get people to hate him for doing no wrong. Prophet Nigel Gaisie says he really believes in himself that he is not what some people always say he is. He is really under the anointing of God and nothing can take that away from him.
Captain Smart in an interview with Nigel Gaisie on Onua Maakye today 25th October, 2021, asked Nigel Gaisie how he felt about all the allegations Kennedy Agyapong made about him. And whether they were true or not. According to Smart, Kennedy said the power he possesses is not from God and that it was out of human sacrifices, how will he react to that.
Prophet Nigel Gaisie replied and said he knows himself and anyone that knows him knows he is a real gentleman. He can never think of that, not to talk of doing it. Thank God after all these allegations I'm still here talking to you and not behind bars. Because he knows, I know, and God knows I have not done such a thing, that is why the police have not come after me.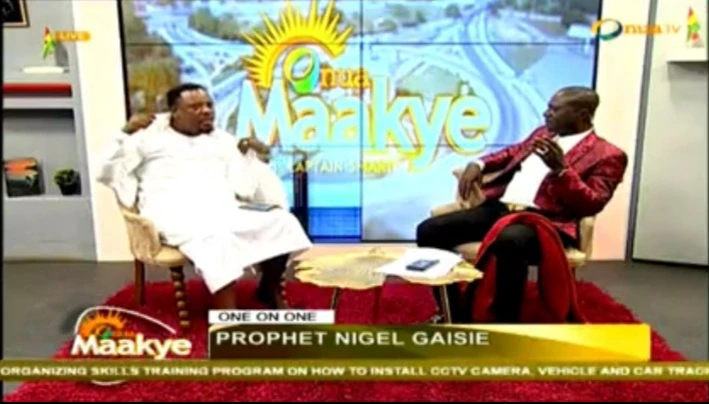 Nigel Gaisie explained to Captain Smart that he really admired and loved Kennedy Agyapong. He will always wish for him to be his father, or uncle, or brother, or even any family member at all because of how well established he is. He didn't expect such words from Kennedy Agyapong and this has actually made him believe he is a very big liar. He added that, he cannot do anything to Kennedy for what he said that was why he was silent over it till now.
God is his protector and he knows God will humble him today or tomorrow for telling lies about His prophet. Kennedy Agyapong thinks he has money so he can do whatever he want, but speaking wrongly about a prophet of God, precisely him is the most dangerous thing ever. So he will leave Kennedy Agyapong and his family to God because is is sure God will humble Kennedy today or tomorrow. Prophet Nigel Gaisie, speaking on Onua TV.
Thank you for reading.
By: Abigail.blog