The early life of former President John Dramani Mahama has been described by his critics as rosy and effortless. To many, he had everything he wished for as a child throughout adulthood because his father, Emmanuel Adama Mahama [late] was a Member of Parliament and a Minister of State for the Northern Region during Dr Kwame Nkrumah's era.
But it appears there was more to his childhood life than many had thought. From a picture that had surfaced online, John Dramani Mahama was just a simple kid. He is seen with an afro hairstyle and crumpled sleeves playing among other locale people, presumed to be in the dry savannah lands of the north.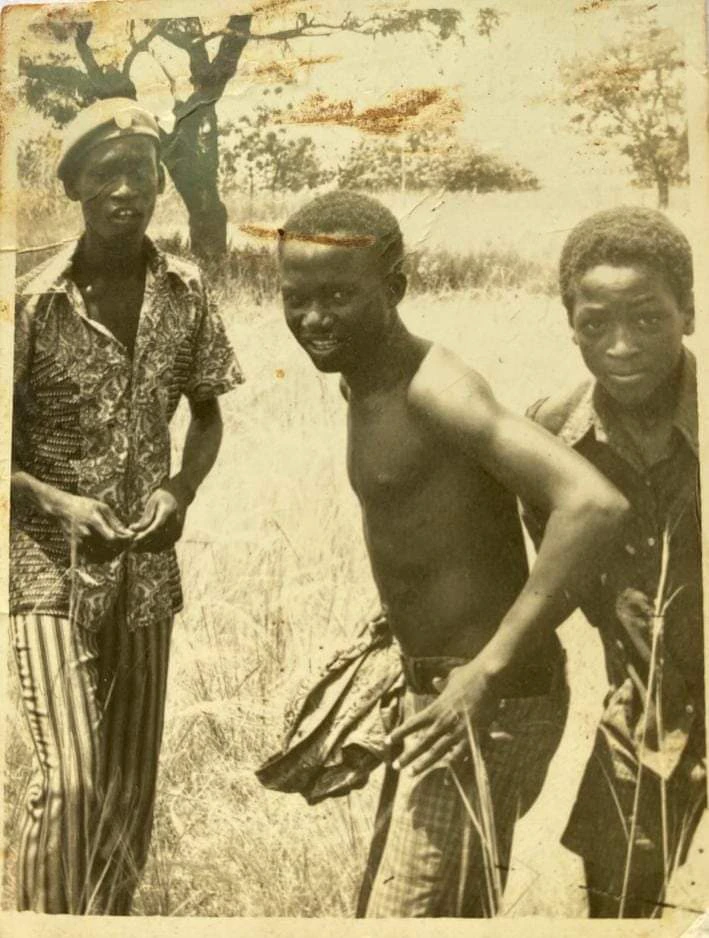 John Mahama [right corner] standing with friends
This photo proves John Mahama was playful and never had that 'Wonderland' as many had imagined. Much could be said about how Ministers of State lived during Nkrumah's administration.
Self-enrichment was considered an abomination, and as such Ministers couldn't live with their families in a lavish manner as we see today. One can guess his age then to be around fourteen to sixteen years.
And the story gets more interesting when you compare his looks in his early adult life and marriage with Lordina Mahama. You need not be told they lived a simple life then and championed the odds to rise through politics just as his late father did to the Presidency.
The tale about his life could be a perfect match for a memoir but it could be incomplete if he never gets a second chance to be President again. No one could tell where these photos were sourced from but Dzifa Gunu who is a known patriot of John Mahama could have the answers, and especially the reason for sharing the photo.
His caption of the photo informed people on social media of who this person was. In fact, it could have been a big puzzle for the day if he made Ghanaians guess the personality.
By: Blind_Justice