Sista Afia has jumped into the fight existing between Efia Odo and Ghanaian celebrities who flaunted their new iPhone 13s mobile phones.
Efia Odo had slammed those celebrities – including Nana Aba Anamoah, Nana Agradaa and Tracey Boakye – for being vain and chasing clout.
According to her, she doesn't see what is so special about owning iPhone 13 and those flaunting it are embarrassing themselves. She further demands answers for the "embarrassing" this they have done.
"Why is acquiring the latest iPhone such an accomplishment to many Ghanaians? This really baffles me and I need answers cuz it's quite embarrassing especially seeing "celebrities" posing with their new iPhone", she tweeted.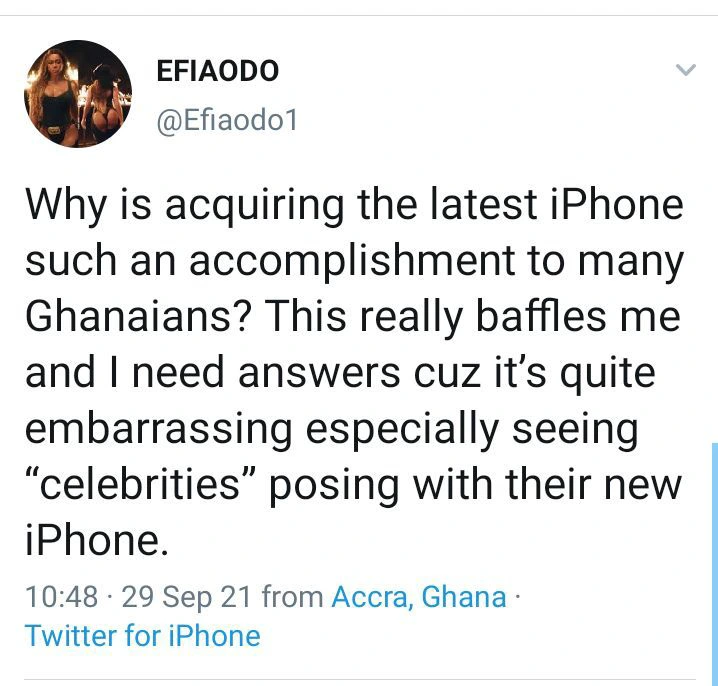 Reviving the old beef between Efia Odo and Sista Afia, Sista has come in to defend those ladies.
She commented on a post by a blogger about Efia Odo's comments on iPhones and rubbished her.
Sista Afia wrote: "Mteew!!", and it sparked off Efia Odo versus Sista Afia part 79.
They started mocking and attacking each other, going back to their tired old stereotypes – Sista Afia calling Efia Odo a 'skeleton for her skinny frame and Efia Odo calling Sista Afia a 'hippo' for her large frame.
Odo fired at Sista Afia: "This hippo is in love with me on God!! She never has this energy on set tho! Sista Afia why you act like a p*ssy a** b*tch when you see me but you always gangster on IG!! You saw me a few days ago on set but where was this energy".
Let's keep our fingers crossed and see what will happen next. It is possible celebrities who have displayed their iPhones will come back and reply to Efia Odo Since they see Sista Afia on their side.