This Will Happen To Supreme Court's Verdict If Mahama Has An Evidence' – Pratt Asks Sefa Kayi
John Dramani Mahama always blames the chairperson of the Electoral Commission, Jean Adukwai Mensah, after he lost the presidential seat to Nana Addo Dankwa Akuffo-Addo.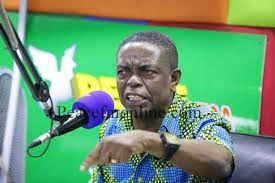 John Dramani Mahama says, Jean Adukwei Mensah printed one million ballot papers with a thumbprint on one particular candidate which he alleged to be Nana Addo Dankwa Akuffo-Addo.
The Chairperson of the Electoral Commission, Jean Adukwei Mensah calls for an investigation that will determine whether John Dramani Mahama is right or not.
Kwesi Pratt asks the host of Kokrokoo, Kwame Sefa Kayi that, after the police, parliament, and others investigate the matter and find evidence that confirms whatever John Dramani Mahama is saying, what will happen to the supreme court's verdict?
Is the supreme court going to hold an election right away or they will dump the evidence because it is out of date?
Share your opinion in the comment section below. Thank you for reading
By: Newsafri24